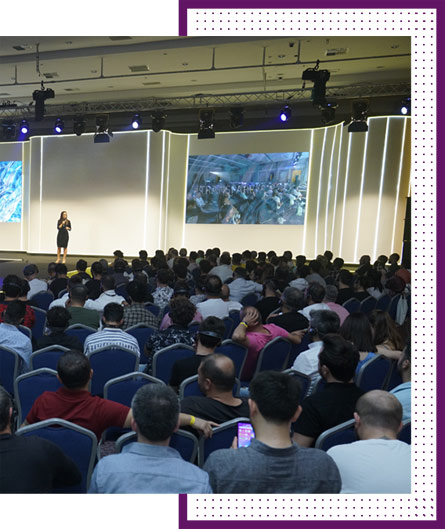 KMP
İncentive
---
To explore together! A travel program with KMP. Best thank you. Ready to experience with KMP?
KMP designs your incoming and outgoing incentive trips with global partnerships and collaborations. We help you choose the destination that best suits your meeting purpose and the expectations of the participants. We are ready to work with you on all aspects. Our team is here to assist you with perfect location, date planning. We study the destination for you before the event, with all its dynamics, from weather conditions, environmental conditions and agenda. After your flight and hotel reservations, we create the infrastructure of the program in the selected destination, develop special activity programs, and produce your cultural and sports activity options.
We plan and manage venue selection, gala organization and transfer details to support your organization theme. We offer rich options in terms of venue and event alternatives.
We produce creative projects in corporate training meetings, motivation meetings, product launches, celebration ceremonies and social responsibility projects that we organize in line with your needs. We plan every detail for you, from corporate event production to transportation logistics. From the welcome to the closing night ceremonies, we use our energy, creativity and unique consultation approach to transform your event into a true KMP experience. Tours and events provide opportunities for us to provide you and your group with the full sensory target experience. You will have an attractive meeting experience with these enriching elements. In our work, it is vital to plan countless details successfully. Our team of experts in flow management is at your side to implement all stages of the process at the highest standards. We highlight and implement your program goals.
Outgoing Incentive
We can prepare a meeting and event for your group anywhere in the world.
Dealer Meetings and Dealer Campaign Trips
Regional Meeting Organizations
Incentive Trips
Fair Stand Design, Installation and General Services
Motivation Trips
School Trips
End of Term Meetings
Congress Organizations
Sport Events
Commercial Delegation Trips
Cultural Tours
Government and Protocol Organizations
Individual Services (Accommodation and Transfer)
İncoming İncentive
The best way to accommodate our foreign guests coming to Turkey and to enable them to fully enjoy the experience of a destination thematic events, entertainment, design the concept of special events with space concepts.
Accommodation
Sightseeing
Group Activities
Guiding
Congress & Meeting
Transportation
F&B (Food & Beverage) Services
---